Warmoth 80s Shredder Project

Yes, I had to have one. I once owned an ESP/LTD M400. I bought it in late 2008 and sold it in early 2009. I didn't miss the guitar (we were never good friends), but I missed the idea.
March 2009: the Shredder. 1980s all the way. And what better way to launch the new venture? I bought all the parts from Warmoth. Not cheap, but very high quality.
One thing before we start about Warmoth. Their products are excellent - truly excellent. But they are expensive - truly expensive. And their resale value is low. Make sure you really want the guitar you order as you will most likely take a 50% hit on resale.
Spec:
Alder body, routed for 2 humbuckers, rear-mounted controls, Floyd Rose, blade switch, Vol/Vol/Tone. Alpine White.
Maple neck, ebony fingerboard, 22 stainless steel jumbo frets, '59 roundback neck shape, ready for R4 Floyd Rose nut. Satin finish.
Original Floyd Rose, black
Gotoh tuners
Black hardware
EMG 81/85
Individual volumes, dual pot for tone controls (so individual tones, but in one space)
Hipshot Tremsetter

The body, neck, Floyd Rose, output jack plate, screws, pickup rings, tuners and plastic back plate all came from Warmoth.
The EMGs were scored off Ebay UK. They came with two pots which will be used for the volume controls and a stereo output jack.
The knobs I had lying around at home. The EMG dual-25k pot for the tone was also already here.
The Hipshot Tremsetter was something I had bought for my M400 but did not get round to using. Reviews on the internet are mixed: some say it works wonders, others say it is crap. You can see what I thought of it below.
I placed the order with Warmoth on the 4th March. The order arrived on the 18th March. Very quick, with very good service from John at Warmoth. Cheers, mate!
Right...here is how it went. I'm writing this in early June 2009, as I was so busy/lazy/tired that I didn't take proper photos along the way, and didn't update this site at all until now.
The parts: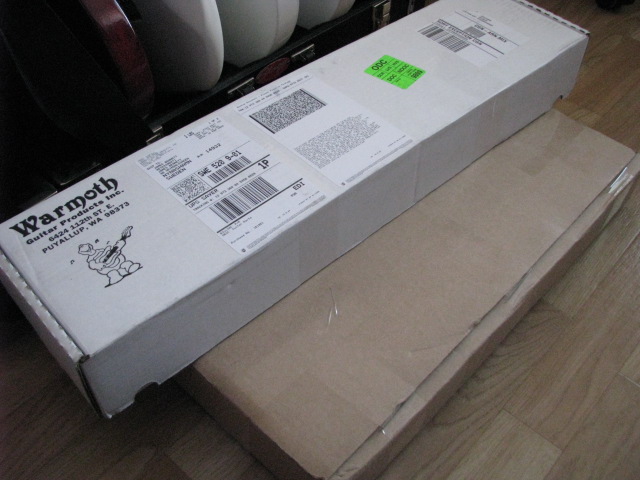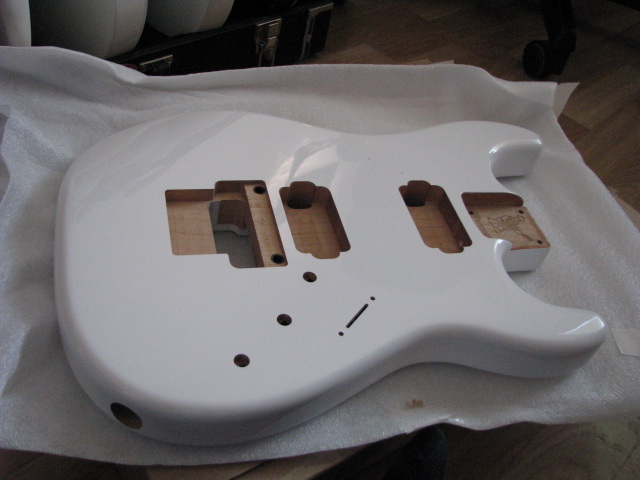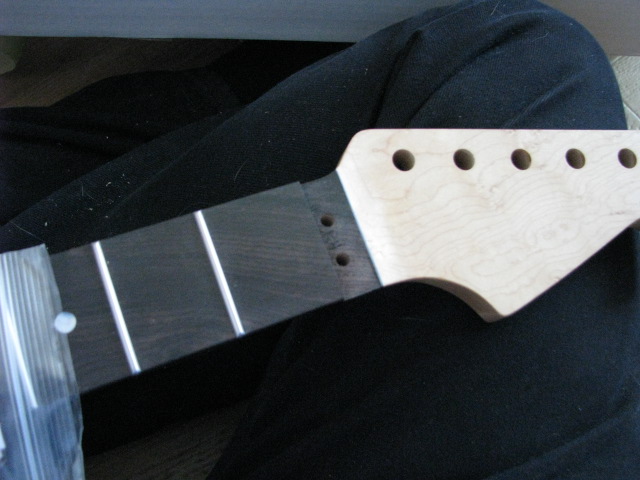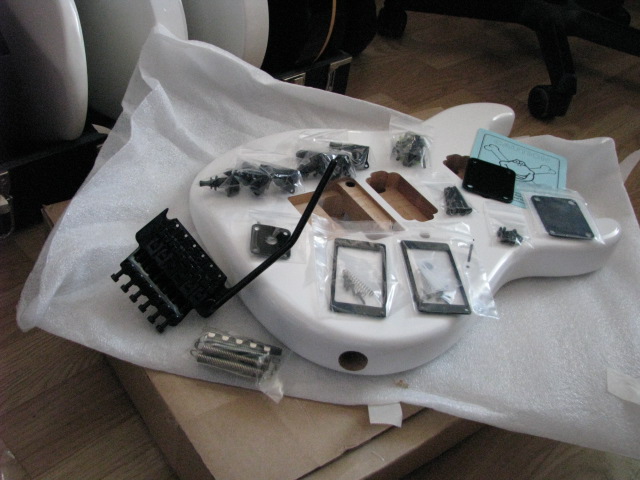 I put it all together and drilled a hole in the back of the tremelo cavity for the Hipshot Tremsetter. This was NOT easy. The Tremsetter itself is a bit thin...I was worried it would break. When putting it in, two leather pads on it fell off. Oh dear.
In use, it is no better. I could not get it to adjust properly (this could be me, not the unit) and could not get it to work well. The guitar went out of tune, even worse than without the Hipshot (the guitar itself was good without it).
The result? In the bin. Poorly made, poorly designed, difficult to install...shite. Avoid.
Anyway...Warmoth parts fit well, and this guitar was no exception. I put in the EMGs, wired everything up...we have a metal monster here! The guitar is great. However, some improvements were needed to make it as great as it could be. I ordered a brass sustain block and a stopper from Floyd Upgrades - this increases sustain and mass at the bridge. The stop is there to tun the trem to down-only. It also increases sustain, and by a lot - you can really hear the difference. I shall get an ESP Arming Adjuster to replace the tremstop. I hear that they are the best on the market, but they are very hard to find!
Pros:
I got the exact guitar I wanted.
The quality is excellent, with a nice thin finish on the body. I have already put a small ding on it by the bridge.
Cons:
Painfully expensive. Really. I have over 13,000kr in this guitar!!!

This guitar is for sale. Offers around 10,000kr, please!
The finished product: